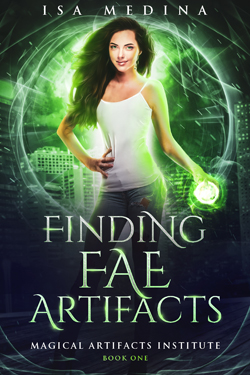 Finding Fae Artifacts – Magical Artifacts Institute Book One is up for pre-order! I'm so excited to finally put this out in the world.
This novella is a collection of everything I enjoy in Urban Fantasy: tricky magic, Fae creatures, opposites attract, lots of banter, and adventure (and lets not forget, a slow burn romance!). I had a ton of fun writing it and I hope everyone will have a lot of fun reading it. I can't wait for you all to meet Maddie and Aidan!For now, only Amazon pre-orders. Other stores to be added later!
Barely part-Fae Maddie Dover dreams of joining the Magical Artifacts Retrieval & Research Institute and becoming an artifact hunter, but its mysterious director, a.k.a. the Jerk, keeps rejecting her applications. Can a chance encounter with a dangerous Fae artifact, an arrogant member of the Institute, and a ravenous Fae hound change that? Maddie's adventures—and the Institute's possible doom—have only just begun.