FREE for my newsletter subscribers: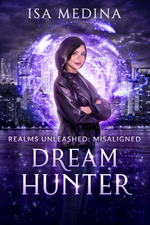 DREAM HUNTER
Some dreams are strange. Mine come with a dangerous stranger.
Everything about him screams danger—the angel or demon kind—and I dread the day he realizes I'm my own person and decides to play with me, or worse, torture information out of me. He seems the type, and my guts agree. Which means I better figure out a way to deal with him and my dreams fast because what happens in dreams…doesn't always stay in dreams.
Sign up to receive news, updates, exclusive content, and more!
I don't spam, and it's easy to unsubscribe at any time.
(You will get an email with a confirmation button–check your promotions/spam folder! If you have any trouble with the form, you can also sign up here.)